IOICAT: Kate Spade New York Charm Heel
I rarely write about High end Designer's because I truly cannot afford what they make. And even if I could, for the life of me I could not justify putting 1000 dollars into a dress or a pair of shoes. However, this does not stop me from dreaming about something a designer would make. I call it IOICAT (If Only I Could Afford That).
I came across this picture of Kate Spade New York Charm Heel while browsing for some glitter shoes on the Internet.
Perfect combination of Sparkle, hot pink and bow
I fell in love with them because they looked so ladylike and cute at the same time. I mean they have a rather low heel, a bow and a touch of pink under all this glitter. What is not to love?
These babies will set you back at around 300 dollars which is fine if 300 dollars is just pocket change for you. As far I am concerned, I could perform miracles with that amount of money so there is no way I would get these shoes. Moreover as much as I like them, I have yet to try them to know if they would be perfect for my feet. I am pretty particular when it come to shoes after buying ill fitted shoes time and time again just because they were cute or trendy. They ended being either never worn, worn but tortured my feet, donated or still sleeping in my closet. I learned my lessons and now only buy shoes I can walk a mile with without hurting my feet.
Anyway, I am pretty sure they are cheaper version of the shoes somewhere. I already know where to start looking for. And who knows I may get lucky.
Other Kate Spade things I like (and would have got if only cheap)
Delavan Terrace Little Nadine
Adore this striped dress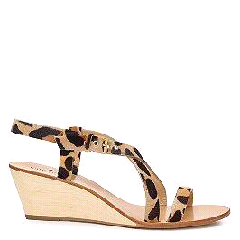 Gena Sandals
and last but not least this cutie of a hat: